OVERNIGHT GEL HEEL SOCKS
HELPS TO ELIMINATE DRY CRACKED HEELS IN JUST DAYS
OVERNIGHT TREATMENT
ODOURLESS
HYPO-ALLERGENIC
WASHABLE
ONE SIZE FITS ALL
WHITE
ONE PAIR
THE UNIQUE POLYMER GEL HEEL CUP FORMS AN OCCLUSIVE SEAL TO LOCK IN MOISTURIZERS
IN JUST DAYS, ROUGH, DRY, CRACKED HEELS WILL BE SMOOTHER AND SOFTER TO THE TOUCH.
DIRECTIONS:
APPLY CREAM OR OTHER MOISTURIZERS TO YOUR HEEL AT BEDTIME. SLIP HEEL SOCK OVER THE TOES AND FOREFOOT AND POSITION THE GEL CUP AROUND THE HEEL.
SIGNIFICANT REDUCTION IN DRYNESS AND/OR CRACKING WITHIN A FEW DAYS. SEVERE CONDITIONS MAY REQUIRE LONGER USE.
DISCONTINUE ONCE THE SKIN HAS BEEN RESTORED. USE HEEL SOCK PERIODICALLY AS NEEDED.
THE POLYMER GEL CUP IS ODOURLESS, NON-TOXIC AND HYPO-ALLERGENIC.
CARE:
WASH BY HAND CAREFULLY, DRIP DRY FOR 12 HOURS. TO CLEAN INNER CUP, TURN SOCK INSIDE OUT, APPLY SOAP AND WATER GENTLY AND LET DRY.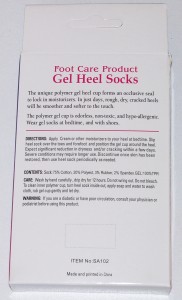 BRAND NEW, IN BOX.
ONLY £6.99 (PER PAIR)
Postage & Packaging is an extra cost, please see our Postage/Payment page for details.