USB HEATED THERMAL WRIST SUPPORT/WARMER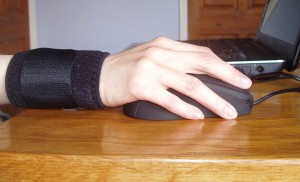 HOT MOUSE™ INFRARED HEATED WRIST SUPPORT
Simply plug into the USB port of your pc or laptop and the support will warm up
One size fits all
Simple to use, adjustable, fastens on velcro
Discreet, can be used anywhere any time
Provides soothing warmth
Long lasting, durable, stretchable and breathable high quality neoprene
Reduces injuries and effectively relieves pain and increases circulation
Continuous usage of up to and over 6 hours
Machine washable
USB line, 2 metres long
Can be worn at any time during computer work or unplug and wear as a normal wrist support
Continuous pain relief, no creams or ointments needed
Cost effective & energy efficient heat source
Compatible with any destop/laptop with usb 1.1 or 2.0 version
Brand new in sealed packaging
Size of wrist support 19.5 cm x 9.5 cm
USB HEATED THERMAL WRIST SUPPORT/WARMER MAY HELP USERS WITH:
Carpal Tunnel Syndrome
Raynaud's Syndrome
Sprained wrist
Support for sporting activities
Poor circulation
Repetitive Strain Injury (RSI)
Tendonitis
Arthritis
Stressed or strained muscles, fingers and joints
Beta blocker medication
Who work in a cold office environment
Have problems with air conditioning
Work from home and at a computer for long periods of time
Only £16.98
Repetitive Strain Injury or RSI is considered by many to be the leading cause of industrial injuries for office workers.
"RSI" is a general term used to describe many work related Muscular Skeletal Disorders (MSD) associated with
activity-related arm pain such as tendinitis, carpal tunnel syndrome, tenosynovitis, golfer's elbow (medial epicondylitis)
and tennis elbow (lateral epicondylitis).
Both our heated mouse and wrist support are widely specified for both RSI prevention and rehabilitation.
Postage & Packaging is an extra cost, please see our Postage/Payment page for details.
Items sold on this website are generally intended for normal personal use and not for resale or commercial use.