DAY OR NIGHT USE GEL HAND GLOVES
HELPS TO ELIMINATE DRY CRACKED SKIN IN JUST DAYS
DAY TIME OR NIGHT USE TREATMENT
ODOURLESS
HYPO-ALLERGENIC
WASHABLE AND REUSABLE
COTTON AND GEL INSIDE
ONE PAIR
PINK
LOOK LIKE NORMAL GLOVES WITH TPR GEL INSIDE
ELASTIC WRIST
FOR WOMEN OR MEN (WITH SMALL HANDS)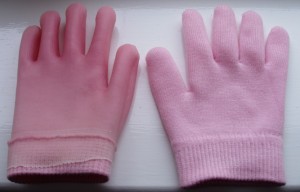 SIZE:
WIDTH: 4.5" (WIDTH OF PALM TO EDGE OF THUMB)
LENGTH: 7" (CUFF TO MIDDLE FINGER)
THESE GLOVES ARE A HIGH-TECH PATENTED TECHNOLOGY PRODUCT.
THESE HAND RESCUE GLOVES WORK ACTIVELY TO MOISTURIZE AND CONDITION DRY, DEHYDRATED OR PEELING SKIN, WHILE ALSO CUSHIONING THE HANDS/FINGERS TO HELP PREVENT THE FORMATION OF DRY AND CRACKED SKIN.
IN JUST DAYS, ROUGH, DRY, CRACKED HANDS WILL BE SMOOTHER AND SOFTER TO THE TOUCH.
THESE GLOVES HAVE AN AMAZING EFFECT WHEN YOU USE WITH LOTION OR CREAM.
CARE:
WASH BY HAND CAREFULLY, DRIP DRY FOR 12 HOURS. TO CLEAN INNER, TURN GLOVE INSIDE OUT, APPLY SOAP AND WATER GENTLY AND LET DRY.
BRAND NEW, IN PLASTIC BAG.
Postage & Packaging is an extra cost, please see our Postage/Payment page for details.